Quality, professionalism and love for horses characterize our approach to horse training. A solid basic training, which creates a trusting basis, is followed by further training with expertise and according to good equestrian principles.
Patience, fairness, a sensitive approach, sufficient time, regularity and consistency in the further training help our young animal to find its balance and to mature into an easy to ride partner horse.
Sufficient praise as well as well thought-out and structured training plans keep the horses healthy and efficient.
Whether a solidly trained leisure horse, a well-behaved cross-country horse or a well-prepared show cracker – horses of all breeds are welcome here and are encouraged according to their talents.
Vreni Klotz
Verena Klotz, head trainer at SQ-Horses got the love for Paint- and Quarter Horses and Western riding in her cradle. She has been riding on her parents' farm since childhood and was successful at competitions from an early age.
At the age of 22, she completed her professional training as a horse professional and graduated as a Horses Business Master- horse breeding and keeping and western riding.
For many years "Vreni" has been very successful at the big Paint Horse Shows like BAYERN-, GERMAN- and EURO PAINT. She also regularly attends shows of other associations like DQHA Futurity, Q or the EWU German Open. She has achieved many awards there on self-trained horses.
Already in 2008 as a teenager Vreni was winner in Western Horsemanship at the PHCG Nations Cup. In the same year she won the gold medal in Western Horsemanship and gold in the team classification at the APHA Youth World Games in Fort Worth/Texas.
Awards
Vreni has been riding in the professional camp since 2011 and was able to ride several young horses into the medal ranks in her very first year as a young trainer:
GCC Lets Talk Cash — German Champion Hunter Hack, Bronce Medalist German Champion Junior Reining, Reserve European Champion Junior Trail, Bronce Medalist European Champion Hunter Hack, PHCG High Point Horse Junior Reining.
SQ Shegothestyle — European Champion SPB Junior Hunter under Saddle, European Reserve Champion SPB Junior Western Pleasure
SQ Call Me Harlequin — Bronce Medalist European Champion Junior Hunter under Saddle
In 2018 Vreni became the most successful APHA Professional Exhibitor in Germany
2019 was also a mega year with SQ Hot Shiny Princess, *2014 Paint Horse Mare bred by SQ-Horses:
APHA Zone 12 Champion Open 2019 (Zone 12 = Europe)
European Champion Halter Performance, Bronce Medalist Euro Paint Junior Trail, Bronce Medalist Euro Paint Junior Hunter Under Saddle, PHCG Maturity Champion, PHCG Maturity Champion Hunter Under Saddle
German Champion Junior Western Pleasure – Junior Trail – Junior Hunter Under Saddle and Green Western Riding, Bronce Medalist German Champion Halter Mares, 4 x German Champion Allround Champion
In 2020, show offerings were very limited due to the Corona Pandemic. Vreni's short decided participation at the German Paint in Kreuth was worth it.
SQ Hot Shiny Princess — PHCG Champion Western Pleasure Maturity, PHCG Champion Trail Maturity, PHCG Reserve Champion Hunter Under Saddle Maturity
Sheza Barlink Allison — Bronce Medalist German Champion Sr. Hunter Under Saddle, 4 x Allround Champion German Paint. Thank you very much, dear Marcus!
My training statement
The welfare of horses is my number one priority. My goal is to have a well ridden horse that is capable of great performance and remains mentally and physically healthy. Training progress is always based on the horses – I achieve my goals and success WITH them and not at their expense. Horse training according to classical principles based on the training scale is my tool of the trade, I reject shortcuts and aids (e.g. draw reins).
If your horse makes a mistake, look for the cause in yourself. And if you do not find it, then search more thoroughly.

Egon von Neindorff, founder and director of a riding school up to the High School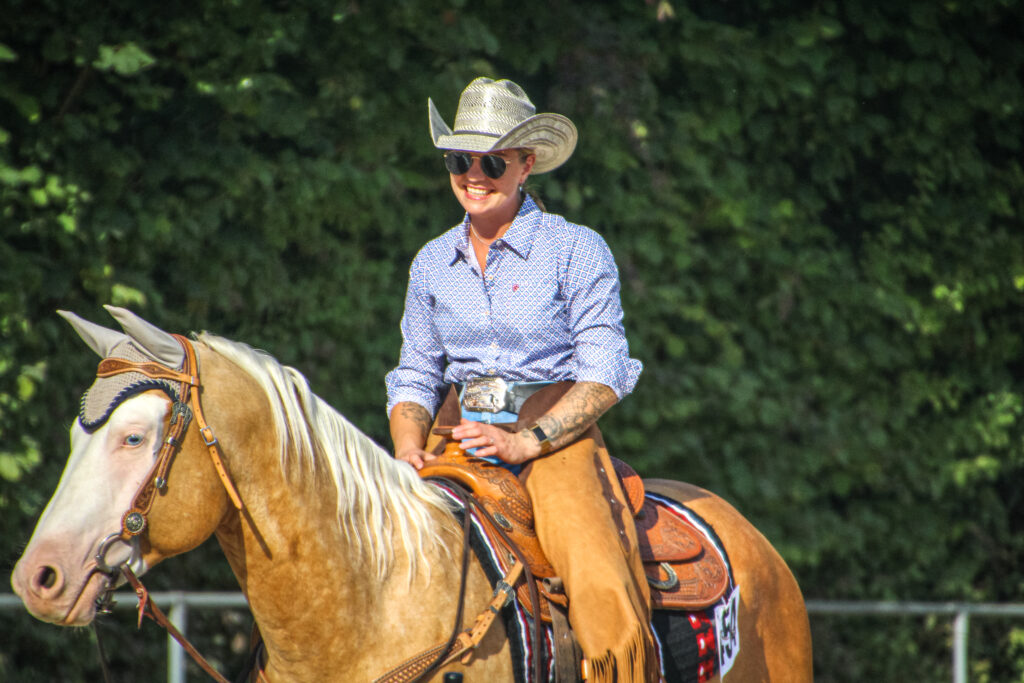 Horse boarding and raising young horses
Healthy horses that are ready to perform need sufficient contact with other horses, plenty of exercise, occupation and time out in the fresh air. Sufficiently large boxstalls or loose stalls and several times daily feeding according to demand are just as important as the supply with water and a daily inspection of the animals.
The boarding and riding horses as well as our breeding and riding school horses are housed in large boxstalls, paddock boxstalls or the three loose stables. The horses stabled in indoor boxstalls spend several hours a day on superior footing.
In the winter, all horses spend several hours daily at the house paddocks when the weather is suitable. They enjoy the summer in large herds (separated by sex) on our beautiful Allgäu pastures.
Basic food of the very best quality (hay, grass cuttings and haylage) from our own meadows is supplemented by purchased concentrated feed and straw.
The creation of performance-oriented feed plans is just as natural as the care of the horses by trained professionals. We offer all-round service and give our four-legged friends the best care.